Competition Heats Up this Summer
In today's economy, the unemployed are grabbing jobs wherever they can find them and this means teenagers and college students are going to see more competition for summer jobs. Yet, it isn't all bad news because some employers prefer to hire young people, especially for seasonal jobs, and there are some areas where youth employment is getting a boost.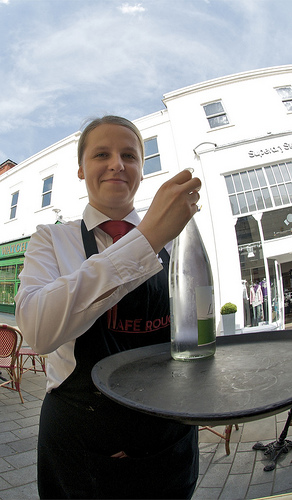 Young girl finds a summer job as a waitress, Photo by Paul Tomlins
Funding Job Programs for Youth
Throughout the country, federal stimulus funds are helping to create jobs for high-schoolers and young adults. North Carolina plans to use $1,162,000 provided by the American Recovery and Reinvestment Act to fund a program aimed at finding summer employment for hundreds of 16 to 24 year olds. The employment will not only help line the pockets of young people, but will help struggling businesses with their need for laborers and pump millions back into the local economy. You can read more about the program in this report from News 14 Carolina. Similar efforts are happening elsewhere around the nation. In March, Akron, Ohio residents urged the city council to use federal stimulus money to create jobs for young people and Governor Arnold Schwarzenegger announced the California Green Corps, a statewide program designed to train 16 to 24 year olds in the green-tech industry. Half the money for the program will come from federal stimulus funds and half will be raised by the private sector.
Start Your Job Search Now
Even with such efforts being made, there's no denying that this year's summer job hunt will be tougher. That is why you should begin your job search now. Waiting until the semester ends will not only put you in competition with adults, but other students also. With feelers out there now, employers will think of you first when they are ready to hire. If you're home for Spring Break this year, use your time wisely and get a head start on your summer job search.
How to Get Started
First, reach out to family and friends and tell them you're looking for a job. You'll be surprised how far the word can spread. Go to employers directly or call them and ask them if they are planning to hire for the summer. Consider your future career goals and see if you can find work related to that field. If you plan to be a teacher, rather than taking a job as a waitress, try tutoring or childcare. Going into the technology field? See if you can intern in a company's IT department or work for an electronics retailer assisting consumers with computer issues. You'll not only be making money, but it will be easier to put together an effective resume when you graduate. Just think, you'll actually be able to list your degree and some relevant experience on your resume!
Yes, You Need a Resume
Speaking of resumes, don't discount putting together a resume for your summer job search. Sure, you're young and your resume will be limited, but it will serve the purpose of providing your contact information and other details that will show an employer who you are. Provide education information. Even if you are in high school or have just graduated high school you can still list educational accomplishments such as: college prep level or honors level classes, grade point average, and your diploma. Extra curricular activities, awards, and special skills (typing speed, software knowledge) should also be listed. For experience, list any employment or volunteering experience you've had including baby-sitting, pet-sitting, and lawn-mowing. These jobs show initiative and the desire to work. For more information on resumes, check out entry-level resumes online. Resume assistance is also available if you are interested in a more professional touch.
Look Employable
When you meet employers, fill out applications, or go on interviews, dress like you want the job. Even if you're only applying for a grocery bagging job at the local supermarket, remember, Joey over there with his boxers hanging out of his baggy jeans wants the job too. Who do you think they'll be first to take a chance on — the kid who's nicely dressed or "Joey-Underpants?" Also, always remember to be polite and send thank you notes after interviews.
Following these steps and getting started early will definitely put a summer job within your reach! Good luck and have a great (working) summer!