How hard can it be to write a college essay?  Well, it doesn't have to kill you, but if you want to get into college, you're going to need to put some effort into it.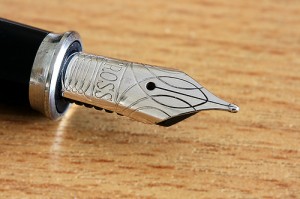 Photo by large rich
 The following hints can help you show colleges that there's more to you than just your grades and activities:
Give yourself plenty of time. A strong application essay is essential to getting into college.  The more time you give yourself to consider a variety of topics, write the essay and revise it, the better your chances of ending up with an essay you like and are confident about submitting.  Your effort

will

come through in your essay and make it stand out from the essays written at the last minute.
Make sure you understand the prompt and respond appropriately. Many college essay prompts (aka: college essay topics or questions) are very straightforward, but some can be a bit more challenging.  If you come across a prompt that you're not 100% sure about, be sure to show it to a school counselor, independent counselor or teacher to get their insight and assistance.  No matter how well it's written, an essay that does not address the prompt correctly is going to hurt your chances for admission.
Choose to write about something that is important to you. Many colleges give you the option to choose your own topic.  If you choose to write about something you truly care about, your enthusiasm will come through in your writing and engage the reader.  This is far more important than choosing a topic that you "think" will help you get into college.  By writing sincerely about something that matters to you, you will be giving the college reps the chance to get to know the real

you

.  After all, they are looking to admit a real student, not just a "perfect" college essay.
Use your own voice. Many students write their college essay with more formal language than they would normally use because they think it will somehow sound better.  Trust me, unless that's how you always speak, it's likely to come across as awkward and somewhat insincere.  Write your essay as if you are writing to a friend.  That's your true voice and that's the voice the colleges actually want to hear.
Get someone who has experience reading application essays to proofread your essay. It's not just about grammar and spelling, though those are very important as well.  It's also about the essay's tone, content and how well it engages the reader.  Seeking the expertise of someone who knows what colleges are looking for and whom you can trust to be honest with you (i.e. school or independent counselor), is one of the most important things you can do to get into college.
By following these tips, you'll be well on your way to get into your dream college!