Trekking up hills under the scorching sun. Walking across campus through the pouring rain. Visiting college after college until you're bleeding their school colors. Are countless hours of campus visits really worth it? You can find anything and everything you need to know about any college or university with the click of a mouse… so why visit at all?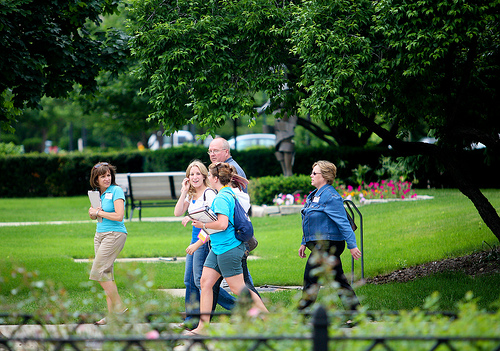 Photo by Marquette University 
"Why did you pick the University of Rhode Island?" That's a question I received from every person I came across after choosing URI. My answer was simple: "The campus tour." I had never been to Rhode Island and couldn't even tell you where it was located on a map before my parents and I took the trip up north to check out the campus. Within seconds, I knew where the next 4 years of my life would be spent. The images of other colleges I visited slowly disappeared as I envisioned myself walking across the Quad to get to class or eating at their dining halls. A 3-hour trip to the smallest state in the US was all it took to decide my future.
Maybe I'm a bit biased because I'm a campus tour guide, but I absolutely think campus visits are worth the extra time and cash to figure out where you want to go to college. I have 3 older siblings so by the time it was my turn to visit schools, I had already seen every college and university along the east coast. Still, I took the time to travel to see the schools that interested me the most. You really won't know how you feel about a school until you get there.
Campus visits are also very informative! When I give a tour to visiting students, here's some of the basics I go over:
Location of campus and transportation methods
Campus size and number of students
Available activities and clubs on campus
Dorm life and Greek life
Dining halls and meal plans
Tuition fees/financial aid/scholarships
Possible majors
Health and safety
Athletics
Social scene
A typical day in the life of a college kid
By experiencing the campus atmosphere, you will gain a better understanding of your prospective school. No online resource will tell you personal stories like a tour guide will. You can't ask questions to a website and expect it to answer. Just seeing students walk pass you on their way to class will help you feel out the school and ultimately make your decision much easier! Don't feel like going with good ol' Mom and Dad? Take the trip with a friend. No matter what you choose to do, make sure your college of choice fits you!