Back to the Books?
The "R" word. We hear it every day. the recession has probably affected your employment situation in one way or another. How can you land a new job or hold onto the one you have in this economy? Competition is fierce and upper-handed employers pick and choose from top, experienced talent. There's no time like the present to better your qualifications, so you're heading back to college, right?  STOP.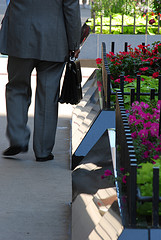 Photo by just make it (gone again!) 
Before diving into your studies, consider tomorrow's job market. After all, you're spending time and money, don't you want to emerge with an education that suits your interests and talents and gives you better opportunities in the workforce? Since there's no way to know when the recession will end, here's a look at some secure and growing career areas you'll want to consider. 
Recession-Proof Careers
Currently, most industries aren't adding jobs, but a few out there are. These jobs are not subject to consumer trends or economic turmoil:
Health Care - Health care jobs will always exist. When people are sick or injured, treatment is necessary. Nurses, technicians, therapists, and aides are in high demand these days and an aging population along with retiring health care professionals ensure that this industry will continue to have jobs. Medical product areas like medication and equipment will also see growth.
Education- Elementary and secondary schools are compulsory and government-funded. Good teachers are always in demand. Community colleges experience a boom during recessions for their affordability and certification programs. In fact, according to the American Association of Community Colleges, the average age of the community college student is 29. Graduate schools are also a popular option for those looking to increase their competitive edge in the job market. These educational institutions will need to fill positions with qualified educators to satisfy their increasing enrollments. Along with academic positions, the number of support jobs will increase as well.
Government - The U.S. Bureau of Labor Statistics reports layoffs in the government occur at just one-fourth the rate of those in the private sector. Government careers are many, wide-ranging, and offer fantastic benefits including loan forgiveness. Your decision to further your education can literally pay off with a job in the public sector.
Post-Recession Careers
Looking for more than just a safe job? Wondering what careers will pay well and see growth? Consider these:
Green Industry- "Go Green!" is more than a mantra. Green infrastructure, environmental engineering, and eco-hydrology are a few of the green jobs expected to be in great demand. With infrastructure jobs poised to stimulate the economy, most new projects will follow a green path. Green job creation ranges from the science behind clean energy systems to their physical installation and includes every function in between. The economic stimulus package directs billions at green job creation with a focus on wind turbines, solar panels, and improved energy efficiency in schools and federal buildings. Thinking career change? Think green!
Finance- The words "financial career" might send people running for the hills these days, but many financial jobs are in demand and will continue to be in the future. The financial sector has the unique ability to create jobs out of problems and scandals within its own industry. Accountants help companies achieve better cash and risk management. Internal auditors provide cost recovery and discover problems prior to external audits. Companies simply can't operate without financial workers. Financial advisers, in particular, have excellent career opportunities ahead due to the nation's retiring Baby Boomers.
Information Technology- IT is here to stay and while some jobs have been outsourced overseas, highly-skilled professionals in the U.S. will see greater demand in the years to come. These jobs will require more business education as the role of an IT professional becomes more versatile. With a focus on architecture, project management, and strategy, these high-paying positions will require continual skill advancement. Heading back to college now? You're doing the right thing.
What if your skills or interests don't match any of the above? There's good news! By going back to college you're already winning the unemployment battle. In fact, the more education you have, the less chance you'll be unemployed. Take a look at this chart from the U.S. Bureau of Labor Statistics. One note of caution: finish what you start. Leaving without your degree or certification will ruin your return on investment. Now, hit the books and good luck!
And don't forget. If you are thinking of going back to school, but don't know which degree program is best for you, find your college match at myUsearch.