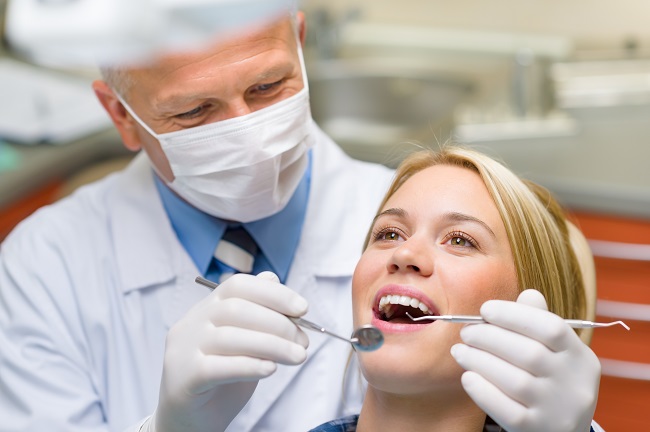 Dentists are some of the best-paid professionals in the United States, rubbing elbows, in this regard, with physicians and surgeons. With projections of an above-average growth rate for employment for dentists within the next decade, there is a need for more people who can diagnose, treat and prevent diseases in the oral cavity. However, the impact of dentists is not just felt in the care of teeth and gums, as proper oral hygiene and regular dental visits are linked to the overall health of their patients.
Preparation
Preparation for a career in dentistry can begin as soon as high school, when you can take courses such as biology, physics, chemistry and anatomy. As a college or university undergraduate, you can enroll in a pre-health degree program or major in a science, such as biology. You can also work with an academic advisor to choose courses that will be helpful in preparing for dental school.  Upon graduating with a Bachelor's Degree, the next step is getting into dental school. Preferably, the Commission on Dental Accreditation (CODA), the accrediting body of the American Dental Association (ADA), should accredit the institution you choose. You are required to take the Dental Acceptance Test (DAT), administered by the ADA, as part of the application process for dental school.
Dental School and Specialties
While in dental school, you will take courses in subject such as anatomy, local anesthesia, radiology, and periodontology (the study of oral health and disease). You will gain hands-on experience at a clinic, where you will have the opportunity to work with patients under the supervision of a practicing dentist. You can choose from any of the nine dental specialties recognized by the ADA, which include Dental Public Health, Endodontics (focusing on the dental pulp), Oral and Maxillofacial Pathology (concerning disease of the mouth and jaw), Oral and Maxillofacial Radiology (diagnostic imaging of the mouth and jaw), Oral and Maxillofacial surgery (surgical treatment of the mouth and jaw), Orthodontics and Dentofacial Orthopedics (study and treatment of malocclusions), Pediatric Dentistry, Periodontics (study and treatment of the teeth's supporting structures), and Prosthodontics (study concerning missing or deficient teeth).
Licensing
After graduation, you will have to get a license to practice as a dentist, which requires passing the National Board Dental Examination administered by the Joint Commission on National Dental Examinations (JCNDE). Licensing requirements vary by state.
Career Options
The vast majority of dentists have their own practices, and oversee an entire dental staff. However, dentists can also be found working at hospitals, outpatient care centers, and agencies at the local, state and federal level.
Salary
According to the U.S. Bureau of Labor Statistics (BLS), dentists in the United States (excluding prosthodontists, orthodontists, and oral and maxillofacial surgeons) had an annual mean wage of $163,240, or $78.48 an hour. The highest paying state is New Hampshire, with an annual mean salary of $234,010 per year. The next four highest paying states are Vermont (at $216,160), Delaware (at $214,840), Washington (at $203,480) and North Dakota (at $200,510).
Job Outlook
The BLS estimates there are more than 146,000 dentists in the United States. Employment of dentists is expected to grow by 16 percent between 2012 and 2022. As many members of the baby-boomer generation continue to age, they will need more complicated dental work. Other factors that could spur job growth in dentistry include ever-advancing technology in the field, increasing emphasis on the link between oral health and overall health, and the growing tendency of older people to keep their teeth.
Choosing a career in the lucrative field of dentistry can lead to a rewarding position within a growing field.
This article was contributed on behalf of NYC Reality Boutique, your number one choice when looking to lease a medical office in New York. Check out their website today and see how they can help you get your own office!