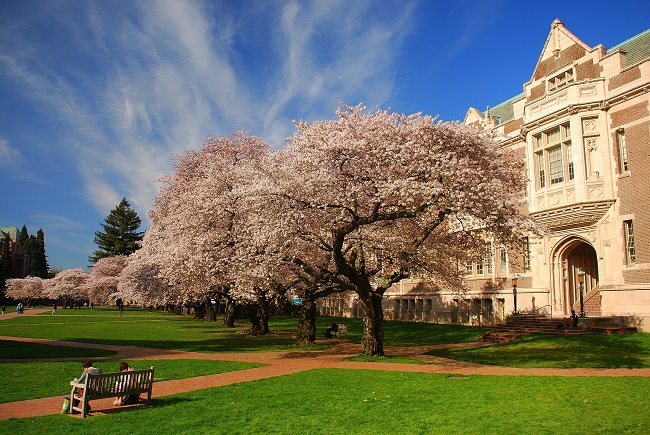 Besides being known for the overwhelming beauty of its landscape, situated as it is on Puget Sound between the Olympic and Cascade Mountain ranges, Seattle is also known for the excellence of its academic institutions. Some of the nation's best major universities, as well as a number of smaller high-quality universities and colleges, are based in Seattle. Here are the top universities in the Seattle area.
University of Washington
The University of Washington, referred to locally as "The U-Dub," is one of the most highly ranked universities in the nation. It is particularly renowned for its School of Medicine, and is also known for its cutting-edge research. Some of the more popular majors are biological and biomedical sciences, business and management, engineering, social sciences, communication and journalism, psychology, and visual and performing arts. Because of its size, the UW is replete with sororities, fraternities, clubs and other extracurricular activities. Its sports teams are famous, especially its football team, the Washington Huskies, who have won several national championships. It is also home to distinguished collections of paleontology exhibits and Indian artifacts at the Burke Museum, and modern twentieth century art at the Henry Art Gallery. The campus is set on 703 beautifully lush green acres in the heart of the city on the shores of Lake Washington and the Ship Canal.
Seattle University
Located in the Capital Hill and First Hill neighborhoods of the city, Seattle University is a Jesuit-run institution that regularly ranks among the best universities in the West. Some of the more popular of its diverse undergraduate and graduate degree programs include those in education, business, law, engineering, psychology, nursing and social sciences. It has one of the lowest student-to-faculty ratios in the area, ensuring a high degree of personalized attention between teachers and students. Seattle University offers a broad array of extracurricular activities and particularly emphasizes volunteer work, in which about two-thirds of its students get involved. Its campus is close to downtown and has a beautiful view of Puget Sound and the Olympic mountain range.
Seattle Pacific University
Seattle Pacific University, located about 10 minutes from downtown in the Queen Anne residential area, was founded as a Methodist university in 1891. It is also ranked as one of the region's best universities, offering popular degree programs in business administration, psychology, nursing, communications, education and a diverse array of other subjects. An extensive network of clubs, athletic teams and volunteer opportunities give students many choices of extracurricular activities.
Other Universities and Colleges
Apart from these three larger universities, Seattle has a number of prestigious smaller universities and colleges. Antioch University, located in downtown Seattle, has about 1,000 students and offers undergraduate and postgraduate degrees in liberal arts, clinical psychology, teaching and other studies. City University of Seattle, a private nonprofit university, offers many diverse learning opportunities, including study abroad options. It has the lowest student-to-faculty ratio in the city and one of the lowest in the region. Seattle also has a number of excellent community colleges that offer two-year degree programs, including North Seattle Community College, Seattle Central Community College, South Seattle Community College and Shoreline Community College.
If you are interested in studying in the beautiful Pacific Northwest, Seattle has a variety of quality educational institutions to meet your needs.
This article was written on behalf of Stita Taxi, your number one choice when looking for a taxi while traveling around Seattle and looking at these universities. Check out their website today and see how they can help you!