Game design and software development are some of the fastest growing careers.  But can you make money doing it? If you are good, absolutely.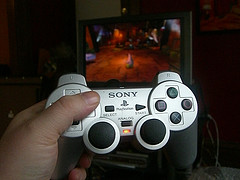 According to a 2006 salary survey by gamasutra, the average game industry salary is $73,316. Game programmers are the highest paid at an average salary of $80K, followed by artists at 65K and designers at 61K.  The average salary for designers with three or fewer years' experience is $43,486 and according to the International Game Developers Association, game designers can make up to $200K.  To find out more, you can purchase the first and only complete salary survey for the industry at gamasutra.  The 75-page report is compiled from 15,000 video game professionals worldwide.
Because this industry is fairly new, it is difficult to find unbiased information about game design programs.  The best resource I've found is gamasutra.  Although they do not rank or compare the degree programs, they do offer a list of nearly every program out there.  You can also visit myUsearch's online questionnaire to find the right program for you and myUsearch is also currently offering a scholarship for students hoping to pursue a career in game design.  We would like to continue to cover this subject, so if you have any additional information sources, please contact us at [email protected].