Planning to attend college in the fall? Thinking of going back to school? Check out this kick [email protected]$ list of links from some of the best college-related blogs in the biz.
Brought to you by myUsearch, the Honest College Matchmaker, I present you with……..
THE CARNIVAL OF COLLEGE ADMISSION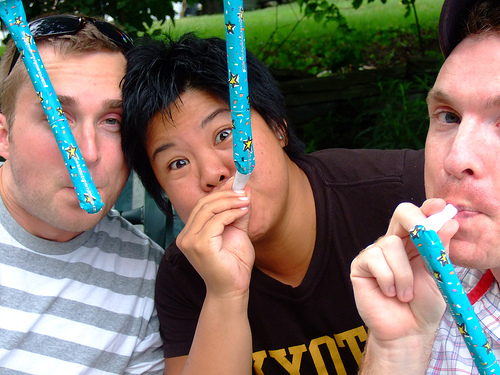 Photo of noise makers by Ann-Dabney
Choosing the Right College:
Often students do not take the time to consider how different colleges structure their curriculum. This short video from a "professional college tour taker" can help you understand their academic choices. Mark Montgomery presents Choosing the Right College Curriculum–How Much Choice Is Right For You? posted at Great College Advice.
If you think you have plenty of time to choose and apply to college, you're wrong! Todd Johnson presents Early College Planning for Freshman and Sophomores posted at College Admissions Counseling.
Frustrated with college guides? Bob Estes presents Some Observations on College Guides and Their Usefulness posted at On-Screen Scientist.
Test Preparation:
What's better, the SAT or the ACT? James Maroney presents SAT or ACT: Which One Should I Take? posted at CollegeTreasure.com Blog.
Getting Admitted:
Some colleges now consider an applicant's "demonstrated interest" when making admissions decisions. Showing enthusiasm for a school could increase your chance of acceptance! Diane presents College Applicants: Show Interest, Get Admitted posted at ULS Blog for International Students.
Are you dreading writing that college essay? myUsearch presents Dirty Secrets of College Admissions: The College Essay from guest blogger, Andy Burns, the Director of Admission for Fort Lewis College.
Hoping to get your MBA? Linda Abraham presents MBA Applicants: Start Your Engines! posted at Accepted Admissions Almanac.
Guess what, you're accepted! Or, are you?…..Hall Monitor presents DetentionSlip.org: UC San Diego Sends Acceptance E-mail to Wrong List posted at DetentionSlip.org.
You've hired a tutor. Now what? Mark Truman presents Five Tips for Parents Who Have Hired a Tutor posted at Omniac Attack!.
Check out these GMAT preparation strategies from TotalGadha, who scored 770 in GMAT. Dagny presents Who Else Wants To Score 770 In GMAT? posted at TotalGadha GMAT.
Financial Aid:
College is a one of the greatest investments anyone could ever take on, but it's also one of the most expensive. There are ways to lower the cost of going to college if you know what to look for. Here's some tips…Joe E presents How to Find the Best Student Loan Deals posted at Consolidating Student Loans.
Looking for creative ways to pay for college? James Maroney presents Community Service Helps Pay for College posted at CollegeTreasure.com Blog.
Need some tips to help you with your financial aid? Eric Perron presents Tax Tips to Help With Financial Aid posted at Dream Strategy.
Concerned about graduating in an economic downturn? Eric presents Graduating this year? You may find a lower salary! posted at Twenties Money.
If you're considering applying for financial aid and need help navigating the FAFSA, Jim presents Free College Money: The FAFSA on Blueprint for Financial Prosperity posted at Blueprint for Financial Prosperity.
Did you know students can access their student loan information through the National Student Loan Data Systems for Students? Nesher presents Student Loan Records in NSLDS posted at Online MBA Study.
If you're planning to take out student loans or are concerned about paying off the ones you already have, DebtLite presents Why Consolidate School Loans? posted at School Loans.
How do you know if you qualify for student loans? K presents Can I get a loan? | StudentAthletesInfo - The #1 Student-Athletes Resource posted at StudentAthletesInfo - The #1 Student-Athletes Resource.
Students who earn academic credentials in another country often have to have their degree evaluated before getting an education or a job in the US, so how do you know what your degree is worth? College Degrees presents Foreign Academic Credentials: Are they Equal to U.S. Degrees? posted at The Degree People Blog.
Student loans can be scary, but they can also be a great way to pay for college. The Smarter Wallet presents Student Loan Programs To Pay For My College Tuition Costs posted at The Smarter Wallet.
Considering a 529 Savings Plan? Silicon Valley Blogger presents College Advantage: Ohio 529 Savings Plan Offers $25 Cash Bonus posted at The Digerati Life.
If you're having trouble navigating student loan options, Surfer Sam presents Student Loans for College. Clear, Quick and Easy Info posted at Surfer Sam and Friends.
College Life:
Older Americans are returning to school in droves. Will this change college as we know it? Emily presents The Changing Face of College posted at Higher Education and Career Blog.
Worried about the money you'll spend on textbooks? Nate Desmond presents Why Rent Textbooks? posted at Debt-free Scholar.
Students are becoming more and more tech savvy every day, but does this mean they are learning more? JC presents Does technology really help in learning? posted at 6Bubbles - Grad School, Money, Life.
Speaking of tech savvy students, Genevieve M. Blaber presents College - U. Got It? Study Finds Students Are Getting Smart(phones) posted at College - U. Got It?.
Should you get an "A" just because you're pre-med? Jeannie Anderson presents Pre-Med at TV Commercial University posted at The Writer in Me - Teaching, Writing, Living.
Spanish is one of the most commonly-used languages in the world, right behind English and Mandarin Chinese. Spanish Learner presents Differences in Spanish Dialects - Spain vs. Mexico posted at Learn Spanish.
Scholarships:
Looking for some free money to help pay for college? Nate Desmond presents 10 Killer Tips for Scholarship Applicants posted at Debt-free Scholar.
Graduate Schools:
Adam Markus presents Admissions Advice: Mentor, Consultant, Editor or Ghostwriter? posted at Adam Markus: Graduate Admissions Guru.
Considering an engineering degree? Margaret Garcia presents Top 50 Engineering Professor Blogs posted at Top Online Engineering Degree.
Other Cool Stuff:
Are you a college sports fanatic? Erika Collin presents 100 Best Twitter Feeds for College Sports Fanatics posted at Rated Colleges.
As the number of communications channels grow, colleges must learn to adapt. Gil Rogers presents Open Communication … Good or Bad? posted at University of New Haven Faculty/Staff Blog.
Tired of people who don't pay attention because they're too busy texting and tweeting? TJ Hanson presents Solutions for Those Afflicted with Technology-Induced Attention Deficit Disorder posted at The Digital Student Blog.
How about a brain teaser? Can you count? Alvaro Fernandez presents Brain Teaser to Stimulate your Concentration Skills posted at SharpBrains.
edSocialMedia's Lorrie Jackson considers how to avoid the void in the social media conversation. Peter Baron presents Accelerating a SLOW-cial Media Campaign posted at edSocialMedia.