What do you want to be when you grow up? If your dreams of being a super hero, pro athlete or ballerina no longer seem too realistic, you might be wondering what kinds of careers are out there. Since there are thousands of career options, it often seems as if there are too many college majors to choose from. To help you narrow your list of college majors, we've decided to start a new series: "College Major of the Week". Each week we'll choose one college major to showcase to help you decide what you'd like to do once you become a real-life "grown-up".
This week's major: Sports Management Programs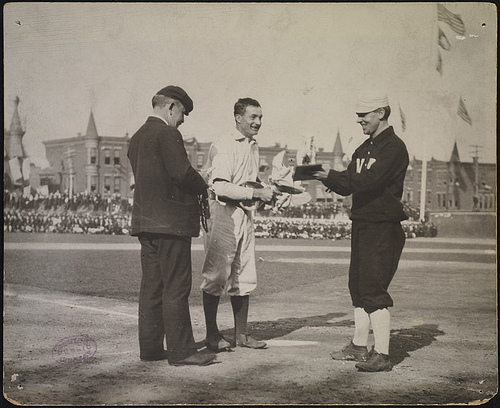 Photo of John McGraw, Manager of the New York Giants, 1905 by Boston Public Library 
What is sports management?
Sports management is the study of the management of sports organizations including professional, college and amateur sports teams, sports leagues and sports associations, as well as individual athletes.
What do graduates of sports management programs do?
Graduates of sports management programs have many career paths to choose from. Sports managers can handle the financial, marketing or operational aspects of a sports organization. Sports managers may be in charge of the overall management of the organization or may focus on one specific area including public relations, sponsorships and endorsements, facilities management, or sports merchandise sales. Graduates of sports management colleges may also handle team training regiments, negotiate athlete contracts or act as a liaison between the team and the community.
Job outlook for graduates of sports management programs:
According to the Bureau of Labor Statistics, employment of athletes, coaches, umpires, and related workers is expected to increase by 15 percent from 2006 to 2016, which is faster than the average for all occupations. Demand for professionals with a sports and recreation degree will continue to grow as the population increases, more women participate in organized sports, and baby boomers approach retirement and participate in more sports and recreation activities. However, competition for jobs in professional and collegiate sports will continue to be fierce, making it essential for graduates to secure sports management internships and connections in the industry before securing a job.
Types of sports management jobs:
There are several jobs open to graduates of sports management programs such as athletic administrators, sports activities directors, talent scouts, sports broadcasters, sports agents, sports marketing directors, ice arena managers, golf course managers, facilities managers, sports event managers and many other sports management jobs.
What types of sports management programs should you consider?
Sports managers for professional sports teams usually have a bachelor's degree in sports and recreation management. To be a high school, college or professional sports coach or sports instructor, you generally have to have a bachelor's degree as well. It is important to choose a degree program that has a proven track record of placing graduates with sports teams and sports management internships. Consider taking the myUsearch college match quiz to find sports management programs that are right for you.
Other sports management program links:
Average salaries for sports and recreation managers