Do you want a new puppy? Are you an international student who wants to attend college in the United States, but can't afford to? Whether you are coming from abroad, or an uncodumented/illegal alien living here in the United States, there are resources out there to help you find the money to fund your education. Whether you are an undergraduate (enrolling after secondary/high school) or a graduate student (you have attended a college or university and want to continue your studies), this article provides links to help you begin your search. Also, my labrador just had a litter of puppies, and they need a home.
*A hint first: START YOUR SEARCH EARLY!  the deadlines for international scholarships and grants are rigidly set far before the start of the school year, and maybe even before the admission application deadline. *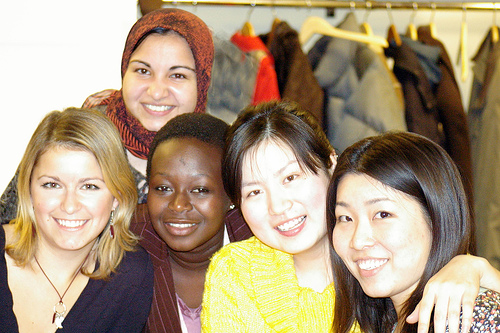 Photo of International Students by MattCline
  Start with private foundations and institutions:
Whether you know where you want to attend or not, browsing the internet is the best way to find scholarships and grants given to international students by organizations, corporations and foundations that can be applied to multiple schools and programs. There are scholarships set aside for international study, as well as competitions that award aid to studends who want to attend college in the United States or elsewhere. Even MyUSearch provides scholarship competitions for students. These contests are harder to find, but be vigilant and browse the web daily!  Be sure to read the fine print; some scholarships and grants are set aside for those from a specific country, others for a specific gender. Here are links to just a few of the organizations that provide loans, grants, scholarships for international students:
College-specific aid:
Many higher education institutions in the United States offer scholarships, loans, or grants specifically to international students. Though this aid is limited and sometimes reserved only for graduate students, it is still substantial; colleges want to attract international students—it heightens prestige and boosts campus diversity.  Start by using the search engines below to find scholarships provided by specific universities. Also, the website of the university you would like to attend should have information on aid for international students. If you have trouble finding information on a scholarship you can apply for, call the university and ask to speak to someone in charge of scholarships or financial aid. Here are websites that can help you begin your college-specific scholarship search:
Undocumented US Residents:
If you do not have US citizenship or a green card, financial aid is more difficult to come by, but still available. Your best option is to seek aid from a private institution. MALDEF—the Mexican American Legal Defense and Educational Fund—has a list of scholarships available undocumented students.
California, Texas, New York, Utah, Illinois, Washington, Nebraska, New Mexico, Oklahoma, and Kansas have passed state laws that provide in-state tuition benefits to undocumented students who have attended high school in that state for three or more years. You may still utilize the sites above for college-specific aid, as you could be eligible for scholarships given by schools in those states; the best way to find out is to contact the college's office of financial aid.
And Finally…
All of these sites are free to use. Some may ask that you "register," but this service is free. Avoid sites that make you pay to use them.
These sites provide information, or links to other sites, to help you understand immigration processes as well as visa and passport protocol. Make sure you read this, and get your documentation in order. EduPass is a site that can help you avoid scholarship scams, and make traveling to the USA easier. 
Maintain your grades and test scores. International aid is a very competitive arena; make sure to stay passionate, informed, and eager. Your grades and exam scores reflect your dedication!
Did I miss any resources? If you know of any other resources that might be useful to international and undocumented students, leave a comment.