Today we have a guest post from Student of Fortune, a site that helps students get the homework help they need and earn money tutoring.
Homework is one activity that normally doesn't top the charts of the "favorite things to do" list, but unfortunately it's a necessary evil. So how can a student make homework as painless as possible? Try these "homework helpers" and you might even find have fun doing your homework…….maybe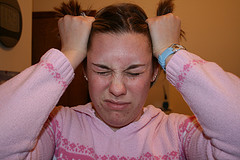 Find a Homework Companion
There's a famous proverb that quotes "A good companion shortens the longest roads". The next time you find yourself intimidated by the tall pile of assignments stacked on your desk, find a like-minded classmate who will spice up your homework routine.  Working as a team to meet your homework deadlines can help you optimize your time and strengthen your weak subject areas.

"I Need Help"
Do you tend to procrastinate because you just can't figure out how to do your homework? If you're stumped on a particular homework assignment, simply ask your friends, professors or acquaintances for a little help. Another effective way is to seek online homework help. Although there are a ton of homework help websites, always rely on those that not only help you to answer your homework question, but teach the core concepts to help you in the future.
Establishing a Homework Groove
Today's world offers a multitude of homework distractions — texting, Facebook, Twitter and YouTube. Avoiding these distractions can be more challenging than having to solve a difficult math question, but it's important to disconnect so you can get into a homework groove. A homework routine should dedicate a specific time of the day and number of hours for homework so you can complete your assignments quickly and enjoy some "me" time.
Homework Motivators
Create a list of homework motivators to revive you when you sense you're being sucked into homework frustration. Listen to your favorite song, spend time with your pet, chat with your best friend or find a reason to laugh. Once you find yourself in a happy state of mind, get back to your homework with renewed energy.
Stay Positive
Love it or hate it — you can't ignore homework. The key is to accept homework as a part of the learning process and stay positive. Learn from it and most importantly, come up with ways to have fun with your homework and enjoy the process of learning something new. It's only homework after all…