This year's U.S. News & World Report's 2011 Best Colleges issue, at 296 pages, is quite a piece of work. To give credit to the editors, a lot has been changed this year. Colleges that grant postgraduate degrees are no longer ranked alongside the schools that offer only undergraduate programs. And for the first time, high school guidance counselors helped create a new "Undergraduate Academic Reputation Index." 
But the central problem remains. It's the claim that these US college rankings will help students identify the "best colleges" in America. That claim – both implied and stated openly – is what makes students, parents and even grandparents plop down $9.95 for this year's issue. And it just doesn't make any sense.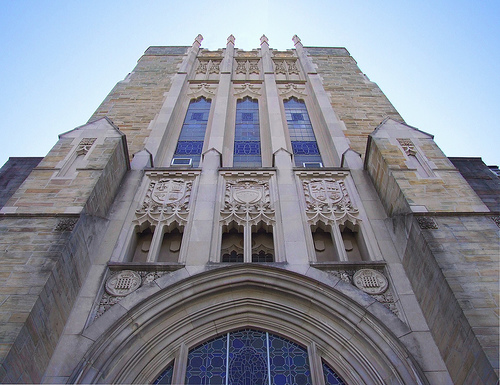 Photo by jrossol
What's wrong with the U.S. News college listings – with this book of US college rankings that so many people believe? Here's a short list of problems . . .
The idea of a "best" college is dead wrong. As just about any college counselor knows, students shouldn't be thinking about getting into the "best" college on any list. They should be looking for a college that represents the best "fit." Harvard, which is ranked #1 on the U.S. News list of "Best National Universities" might be perfect for some students. But for many others, Harvard is far from the "best" school. If a kid is a late bloomer who didn't do too well in high school, for example, he or she should be looking for a school that favors more exploration. (How about Oberlin or Evergreen or Colorado College?) And how about the artistic student, or the student with learning disabilities, or the transgender student who is looking for a place to fit in?  
There are too many opportunities for colleges to "cook" data and score higher in the rankings. Most of the data that goes into the U.S. News issue are provided by the colleges themselves, not ferreted out by U.S. News reporters. As Mitchell L. Stevens reports in his book Creating a Class, college admissions officers think long and hard about how they represent the data that will appear on their own websites and in external publications. Should they lump foreign students in with American "minority" students to boost the percentage of "multicultural" students they report, for example? Should they keep retired professors on the books to improve the student/faculty ratio that U.S. News weighs? Should they boost the U.S. News freshman retention statistic by keeping students who have taken leaves of absence on the books? Colleges have too many ways to influence reported statistics. Therefore the data that gets reported shouldn't be viewed as hard facts.
Some of the ranking criteria don't make much sense. The colleges that accept the smallest percentage of applicants, for example, climb higher in the rankings. But what does the rejection rate really tell anybody about the classes, the instruction or the quality of student life? Similarly, colleges with the highest rate of alumni giving get ranked higher than do other colleges. While alumni giving tells a lot about an institution's financial health, it doesn't reveal much about the day-to-day life of most students. Why should you even be thinking about some of this stuff as you make your college choice?So, should you run out to buy a copy this latest Bible of US college rankings? Sure you should. There's a ton of information in it. Just don't think that the schools that appear on the top of the lists are the schools that you should be shooting for. You'll learn a lot more by visiting campuses, walking around, lurking on campus blogs, talking to professors and soaking up the specific information that you really need to make the best decision.Remember, the only best college is the college that's best for you.

Need more information? Start your college search with myUsearch.com's college match quiz or visit our complete guide to US College Rankings.