Everyone knows how expensive a college education can be and that most people graduate from college with at least some debt.  The important thing is to not let the "sticker price" prevent you from pursuing your college diploma.  There are ways to lower your debt that may make a college degree more affordable.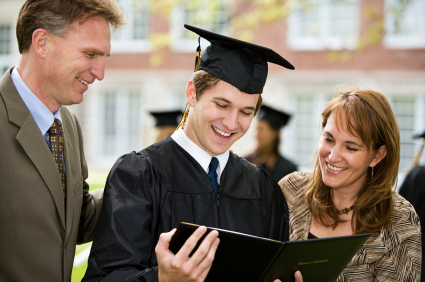 I would like to be able to say that you can graduate from college debt free, but since people's financial circumstances and college aid packages vary widely, I'm going to concentrate on ways you can lessen your debt.  If doing all the things I am about to mention helps you end up completely debt free - even better!
Before college
Work hard to get the best grades you can.  Merit aid is given by many colleges to those students who have distinguished themselves academically as well as by their leadership and/or service.
Get involved in your community.  The amount of scholarship money available to students who have developed service projects or been outstanding volunteers is staggering.
Choose an affordable college.  There are more than 5000 undergraduate degree programs — many of which, you've probably never even heard of. A lot of lesser known colleges offer fantastic aid for college, so do your homework before you make your college choice.
Apply for every scholarship you are qualified for.  There is no such thing as a scholarship that is too small to bother with.  They all add up to money you don't have to pay back.
File your FAFSA before the deadline.  Gift aid from the college, money you don't have to pay back, is limited.  The longer you wait to file your FAFSA, the less likely it will be a part of your college aid package.
Carefully compare your financial aid packages.  Be sure to keep in mind how long it will take you to graduate from a school, because that may add to the amount of money you will need.
Get a job.  Once you do, set aside as much of your paycheck as possible for college tuition and expenses.
Consider starting at a community or junior college.  This is often a good option for students who have very limited resources because it is much less expensive and may allow you the flexibility you need to hold down a job.
Once you're in college
Keep your grades up. Some of the scholarships you received may have a GPA requirement in order to keep them.
Seek out jobs with money-saving perks.  These would include jobs that include free meals, discounts, or maybe even provide room and board.
Live within your budget.  Make sure that budget includes the amount of money you will set aside from every paycheck to lower your debt.
Investigate and apply for new scholarships.  Some scholarships are only available to students who are already in college.  Be sure to also check into scholarships available for people in your field of study.
Consider becoming a Resident Assistant.  R.A.s usually get their room and board for free.
Investigate loan forgiveness programs.  There are some programs such as Americorps and VISTA that will put money toward your loan repayment in return for your service with them.  You can usually find more info about these programs in the financial aid office.
While you may not get out of college completely debt free, it is possible to graduate with a manageable debt.  The more committed you are to keeping your debt down, the more likely that's going to happen.  It's up to you.