As warmer weather nears, students begin to think about the end of classes and the beginning of vacation time and outdoor activities. Unfortunately, having fun often requires money, that's why it's not too early to start thinking about summer jobs.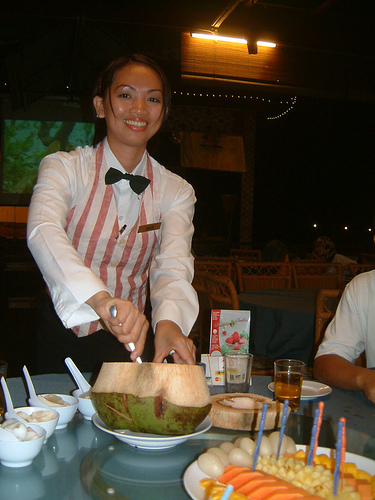 Photo by Les.Butcher
An Important Thought about Finding a Summer Job
The first thing you should think about when considering a summer job is why you want one. Are you looking for a job for immediate funds or to also build upon your money-making potential later on? There is no right or wrong answer, but you do have a choice. Let's say you're a finance major. One day you'll take your degree with you on a financial job search. Summer and part-time jobs are opportunities to gain industry-related experience for your resume. So, in the case of the finance student, a summer job doing landscaping may offer a flexible schedule and good money, but an entry-level job or internship in banking or business over the summer offers an edge over other graduates and may allow for a higher starting salary when the time comes.
You're Only Young Once
It is true that you're only young once and if you want to use your time away from studies in a way that better suits your interests in travel, leisure, or sport you are certainly entitled to do that rather than spending your days inside an office under fluorescent lighting. Keep in mind that even when you're having fun, you can take in valuable lessons and experience, so be on the lookout for these opportunities. Take an interest in how business is run wherever you work; make good relationships with others wherever you go and keep up with them afterwards; learn about the places you travel. The more you experience and learn and the more people you know, the more worldly, connected, and employable you become. Relaxing on the beach? Why not read an industry-related magazine or book? There are many things you can do through a summer job or summer leisure to help your future graduate-self be ready for employment.
Your Job Search Practice
Summer job-seeking is also great practice for your full-time job search. Learn now how to put together an effective resume and cover letter. Start using networking skills (people you know, social media, online job boards) to find and connect with job opportunities. Find out first-hand the importance of looking and acting professional when looking and interviewing for jobs. In today's economy even summer jobs are becoming more competitive. More young people are looking for work and even mature job-seekers are out there accepting what they can find – it might be your summer job. Your summer job search will be good preparation and experience for facing tough competition in the job market.
More Reading on Summer Jobs
For more information on how to get a summer job, read my article "Looking in All The Right Places for a Summer Job."