As a liberal arts student in college, I make it my business to know nothing about accounting, finance, banking, or lending. Yes, I currently receive federal financial aid—both subsidized and unsubsidized, direct and indirect—but I make a concerted effort to ignore the differences, disregard the fine print, and defer to my parents. I just trust that either they understand it, or if they don't, money is money, right? We all have different ways of paying for college, and it usually just comes down to meeting that magic tuition number. For those of us not fortunate enough to encounter a bag of unmarked bills on the sidewalk or receive an envelope of mafia hush-money, there are good ol' federal loans to help us get to that number.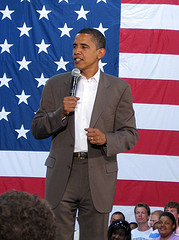 Obama photo by transplanted mountaineer
When it comes to loans, most people choose federal loans because of their low interest rates relative to 'normal' rates you'd get from a bank to start a business or renovate your bathroom. Also, federal loans are backed in full faith by the government, so as long as you qualify you know the money won't run out on you in the middle of sophomore year. Your loan can come directly from the government through the Federal Direct Student Loan Program; or indirectly, through the Federal Family Education Loan Program (FFELP) in which private financial intermediaries—a lending corporation or a bank—receive a subsidy to service and originate your loan.
During his Presidential campaign, Senator Obama vowed to overhaul the FFELP, saying during his campaign that the program wasted more than $15 million of taxpayer money every day and needed to be fixed. Now that he's in the White House, Barack Obama is putting his plan into action; earlier this month, the House of Representatives Educational Committee approved Obama's student loan reform bill.
In the bill, the administration outlines a plan that would transition all federal student loans to direct loans, eliminating the FFELP and private middle man. Currently, students are given a choice on which bank or lending institution they wish to receive their loans through. The government provides subsidies to the private lenders, assumes the financial risk by guaranteeing the funds and insuring against default, and sets the interest rates; meanwhile the private lender does the paperwork, answers your phone calls, and oversees and enforces your loan.
So what does the bill mean for students? The Obama administration claims it will save the federal government $87 billion over 10 years, money which he says will be channeled into expanded Pell grants (federal money reserved for the neediest students), therefore providing more aid to more students. In their view, the federal-aid system is unnecessarily convoluted and costly, and represents a scenario in which private lenders take none of the financial risk but reap large benefits thanks to federal subsidies provided by the taxpayer. Obama hopes that providing loans directly will free up more money to help a greater number of students go to college.
On the downside, students will not have a choice on how they receive their federal aid. Those opposed to the bill claim that it represents undue government expansion into the private sector; eliminating choice and the benefits of competition, confusing students currently utilizing private lenders, and resulting in the loss of thousands of jobs for those working for private lenders.
Proponents respond by pointing to the $5 billion dollars set aside in the bill for private financial services; meaning that private lenders can continue to compete over servicing a federal loan—essentially doing the same borrower's assistance work they do now, minus the government subsidy to provide the loans.
Ultimately, if the President's plan is implemented as his administration claims it will be, it won't do a whole lot to change how you pay for college. The government has already awarded contracts to Sallie Mae, Great Lakes Education Loan Services, Nelnet, and AES/PHEAA, meaning that these corporations will still be around to compete to provide the best loan servicing—helping you decode the loan contingencies and understand how and when to pay off your loan. Hopefully, this will result in minimal job loss, and minimal confusion. The department of Federal Student Aid has already issued a letter to all colleges implementing federal student aid, explaining that the government has already set up infrastructure online and in-person to help college financial aid officers understand and explain to their students how the direct loan system will work. The new policy won't become effective until July 1, 2010, so there's still time for you and your college to get used to the new system.
If you're like me, you probably won't even notice the change. Who reads the fine print anyway?
Do you have any insight about student loans? Any tips for what students should look out for? Share your thoughts by leaving a comment.