Every year, people spend a good deal of money to check out colleges, but rather than returning home with the information they were seeking, they often find themselves exhausted and more confused than before.  This is especially disheartening for students who will  have the opportunity to visit colleges that are far from home only once.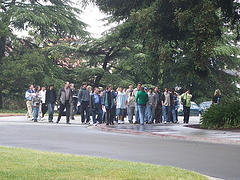 Photo by Raymond Yee 
In my experience, the most productive college tours have been well thought out and reasonably planned.  Here are a few simple things you can do before you ever leave home to hopefully make your college tour more productive - and pleasant.
Do your research.  Before you decide which schools to visit, find out everything you can about them.  Make sure they have the all the programs you are looking for and that you have a reasonable chance of being admitted there.  While you're on the schools' websites, be sure to check out their information about visiting campus.  Make sure to note whether you have to register for tours in advance, the phone number for Admissions, as well as the procedure for sitting in on a class.
Make a reasonable plan.  Once you've done your research, decide which schools would be the most helpful to visit.  I strongly recommend that you pace your college tour in such a way that you visit no more than two colleges a day. This will give you enough time to do more than just the standard tour, as well as help prevent all the colleges from blending together.  If this will be your only chance to visit a campus, take the opportunity to sit in on a class - if allowed - and speak with someone in Admissions. These last two things may need to be  set up well in advance of your arrival, so be sure to give them a call at least 2 weeks before you plan to be there.
Make a list of the information you want to get from each college.   Take the time to consider what you would like to know about each college that you weren't able to get from your research.  (i.e. Do a lot of the more local students go home on the weekend?)  Be sure to get your all your questions answered at every college you visit so you can compare them.  Just a hint: don't feel like you need to limit your questions to your tour guide or admissions reps.  Go ahead and ask other students you may meet on campus.  If your question can only be answered by a professor in a certain discipline, be sure to ask the people in admissions if they can arrange for you to speak with one of those professors.  (This is another thing that needs to be set up well in advance.)
Make the most of your meals and lodging.  As you plan your college tour, keep in mind that there's more to college than classes and campus buildings.  This can be an excellent opportunity to get a better sense of the atmosphere on and around the school.  Choose lodging close to the colleges you are visiting whenever possible, so you can get a sense of the "flavor" of the area.  When it comes to meals, be sure to have lunch in the dining commons of whatever school you're visiting at the time.  In the evening, make the effort to eat at a restaurant near a different campus on your tour to get yet another perspective on campus life.  Not sure which restaurant to try?  Try using the school's Facebook page to ask for recommendations from current students.
Take care of the logistics.  There are some things you can't control such as flight delays or rental car snafus, but the better prepared you are for your college tour, the more likely the small stuff won't ruin it.  Here are a few of my logistical recommendations.  Confirm all reservations. Check the weather forecast before you pack, so you have the right clothes with you.  Have printed directions and a map with you- just in case the rental place runs out of GPS systems or it malfunctions. Allow enough time to find parking and locate the Admissions Office. Make sure you wear comfortable walking shoes for campus tours.   If you have been dealing with a specific admissions rep, be sure to have their name and phone number with you in case you run into a problem.
Discuss expectations before you leave the house.  A college tour isn't exactly a vacation where everyone can do their own thing.  In order to run smoothly, everyone needs to know what is expected of them.  Parents and students should talk about what parts of the college tour they will do together (i.e. campus tour) and which ones they will not (i.e. eating in the dining commons).  Discussing seemingly small things, such as what time you will need to get up each day, can be important in preventing unnecessary tension.  The key is to clearly communicate expectations with each other in advance in order to avoid potential misunderstandings later.
Once you've done this,  you're ready to pack your bags and find out exactly what the colleges on your tour have to offer you.