Last month, US News and World Report and the Princeton Review both unveiled their annual college rankings. The frenzy around these two lists, that students and their parents treat like the Bible, raises an important question: What do these rankings mean, and what role should they play in your college search?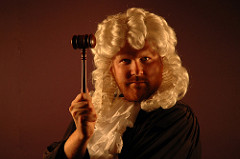 photo by &y
The purpose of college rankings is three-fold: benefit students, benefit colleges, and benefit the company writing the list. The company benefits by selling magazines or guidebooks, gaining web traffic, and getting tons of press. Colleges (at least, a few of them) get some bragging rights and exposure. For students, the rankings are mainly a way to organize data on certain schools and to reinforce ideas you already have. For example, you might check Princeton Review if you're looking for schools accepting of the gay community, and you might find the rumors are true on another school's awesome radio station. Or maybe you're already interested in a school and see on USNWR that their graduation rate is relatively low, which would be a good thing to research later. However, most of the information in college rankings can be found somewhere else anyway. You should combine this information with a variety of tools and sources like the college matcher at myUsearch, college fairs, your school counselor, and campus visits. If anything, treat college rankings as a starting point, not the foundation of your search.
If you are studying rankings, read the methodology, the criteria and method of gathering information. For instance, Princeton Review's lists are based on student surveys, whereas USNWR gathers their information from the schools themselves and plugs it into a mathematical formula. Think about the usefulness of these methods in context. Is asking students to rate their schools' career placement services the best way to determine their actual quality? Is it really fair to base more than 20% of a school's rating on financial measures like faculty salary? Also note what might be missing, or who is missing; Reed College and other schools actually refuse to submit their information to USNWR. If the concept of rankings weren't questionable enough, their exactness should be.
The quality of an education isn't something you can quantify. Two students at the same college aren't going to have the same experiences, and those experiences aren't just determined by stats. They're impacted by subjective, personal factors, from the school's location to your campus involvement. And those things are impacted by your own interests, personality and outlook. Basically, you should choose a college based on how it fits your needs, not how it fits some company's agenda.