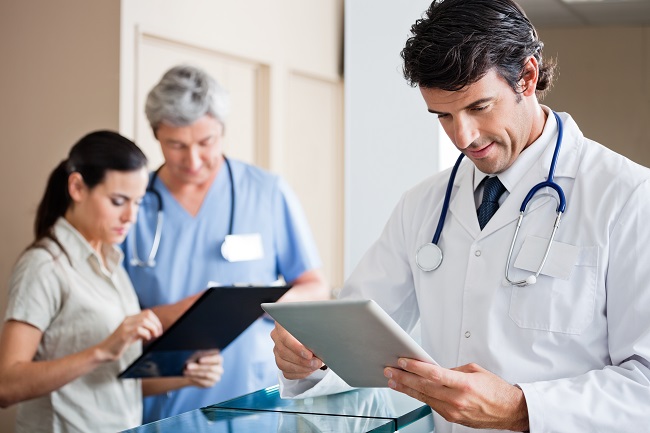 Healthcare is an interesting and varied field, one that has no shortage of entry-level positions for qualified professionals. Most medical professionals learn a number of different valuable skills that they will need throughout their careers, and the training to become a medical assistant can provide you with the skills needed to go anywhere within the industry. The U.S. Bureau of Labor Statistics predicts that the healthcare industry will add more jobs than any other industry between now and 2018, and one of the factors that will contribute to that growth is medical assistant employment.
What Does a Medical Assistant Do?
Medical assistants provide a number of services to patients in hospitals, physicians' offices, and various other healthcare settings. The duties of a medical assistant typically vary from one healthcare setting to the next, but most medical assistants perform a combination of administrative and clinical tasks. Some of the administrative tasks performed by a medical assistant may include updating patient records, ordering laboratory tests, scheduling appointments, processing bills, completing insurance forms, and arranging for hospital admissions for patients. They regularly interact with patients and other medical professionals and provide invaluable information and support. As for clinical duties, medical assistants may be expected to take vital signs, sterilize instruments, collect laboratory specimens, administer medication, and assist physicians during patient exams. These duties may vary from one medical setting to the next, but a qualified medical assistant should be able to perform all of these tasks.
What to Expect from a Medical Assistant Training Program
One of the greatest things about becoming a medical assistant is that the training will teach you a number of different skills that you will need in order to work in healthcare. Whether you plan to make your living as a medical assistant or you want to go on to earn a higher degree and become a doctor, the training involved in becoming a medical assistant will definitely give you an advantage.
Becoming a medical assistant generally requires between nine and twelve months of education and training. During that time, students will take classes on anatomy and physiology, pharmacology, medical terminology, office procedures, phlebotomy, clinical lab procedures, advanced laboratory procedures, and medical law and ethics. Most programs require some kind of hands-on training in the form of a clinical externship. This is the most basic education, and in most cases it is all that is needed for an entry-level position. Students may also register to complete a certification exam and become a certified medical assistant (CMA). They may also continue their education and earn a two-year Associate's degree.
Entering the Field
For many students wishing to enter the medical field, working as a medical assistant will provide valuable experience and some insight into what working in the healthcare industry truly involves. Depending on where they work, medical assistants will complete a number of tasks that are all but universal within the medical field. They may not have the expertise of an experienced physician, but they are indispensible for the administrative and clinical duties they provide.
If you are interested in entering the healthcare industry but don't want to devote six to eight years to become a doctor, consider becoming a medical assistant. The training and the occupation will provide you with the skills and experience that you will need to begin your career.