The agonizing wait to hear the college admission decision from students' top college choice is finally coming to an end – or is it?  For some students, the long-awaited answer is: "Wait a little longer."  In other words, instead of being admitted, they've been offered a place on the school's waitlist, leaving the student asking themselves, "What do I do now?"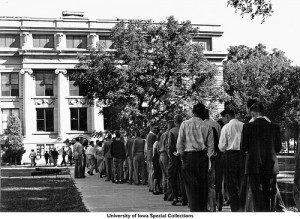 Photo: University of Iowa Libraries
Waitlists are not new.  They have often been used in the college admissions process to hold on to interested students in the unlikely chance that spaces should become available.  However, in recent years, our uncertain economy has made it much more difficult to predict enrollment with the same accuracy as in the past.  This has forced more colleges to use waitlists to buy additional time to see how much room they will actually have.  Once they know that, they fill the class with students who have opted to stay on the waitlist.
So, what should a student who's been offered a place on the waitlist of his or her top college choice do?  That depends on the student.  Since the school is the student's first choice, staying on the waitlist may be a good choice for him or her.  However, it's very important that they understand that being on the waitlist comes with no guarantees for admission.  They will still need to either say "yes" to one of the other schools they were accepted to and pay their non refundable deposit by May 1st, or plan to attend a local community college and re-apply the following year.
If they decide to stay on the waitlist and say "yes" to another school that has accepted them, in my experience, it's crucial that they treat that school as the college they will be attending in the fall.  That means attending events for enrolled students, registering for classes, doing questionnaires to help match them up with a roommate, and anything else the college asks them to do to make their transition to their school as easy and enjoyable as possible.  If they happen to get off the waitlist, they'll need to do it all again, but I'm pretty sure they won't mind since it's their top college choice.
As with any college choice you make, it's best to know as much as you can before you make your final decision. Students need to revisit their reasons for wanting to attend the schools where they have been accepted and consider the costs of all the schools in light of their family's current financial situation. I would also encourage having a family discussion about this college choice.  They should talk it over with a guidance counselor too.  They may have a perspective the student hasn't considered.  A little research on the school may also render info on how many students have been admitted from the waitlist in recent years, giving a better insight into the chances of being admitted.
If they are still committed to staying on the waitlist, students need to carefully follow the directions provided by the college for accepting their place on the waitlist.  Students can also give the school a call and ask if there is anything they can do to improve their chances of being admitted from the waitlist.    Once they've done that, all they can do is wait - again.