You have consulted everyone, right? You have asked your parents, grandparents, aunts, uncles, neighbors, classmates, teachers, siblings, coaches and confidants to find out what you can do to make your college application essay(s) stand out. You don't know where to start, how to narrow your options, whether you should try to make it funny or academic- or both? First of all, stop talking to everybody else. They will only plant seeds in your mind that may lead to an eventual writer's block. I see it every year. This is a personal essay. It's you. However, the essay is the most important aspect of any college application, so you must execute it well. If there are a few basic pointers that I could give any high school senior they would be: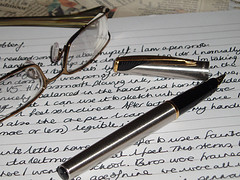 Photo by Bright Meadow
Thanks for visiting. If you're new here, you may want to subscribe to our RSS feed.